Today's factories are highly automated and use amazing robotic machines to do the work of thousands of men. These factory machines don't look like the robots in the movies. They are a very specialized breed called CNCs, which stands for Computer Numerical Control machines. These sophisticated machine tools are operated by computer programs.
But these aren't new toys, by any means. CNCs have been around since the early 1970s when computer-controlled systems were introduced.
The first modern-day industrial robot, the Unimate, was put into use by General Motors in 1961. The Unimate was a 4,000-pound robotic arm that attached to a giant steel drum and did things like pour liquid metal into die casts, weld auto bodies, and lift 500-pound car bodies.
The Unimate performed tasks that humans often found dangerous or boring, and did them with speed and exacting detail. The robot never called in sick, asked for a raise, or went on strike. Plus, it worked 24 hours a day. As you can imagine, robots are a productivity and profit lifesaver for factories.
Industrial robots are now a central part of the manufacturing industry. According to the International Federation of Robotics, robotic sales will increase by 12% a year from 2015 to 2017. The Boston Consulting Group estimates that the robotics industry will grow by 9% a year from now until 2025.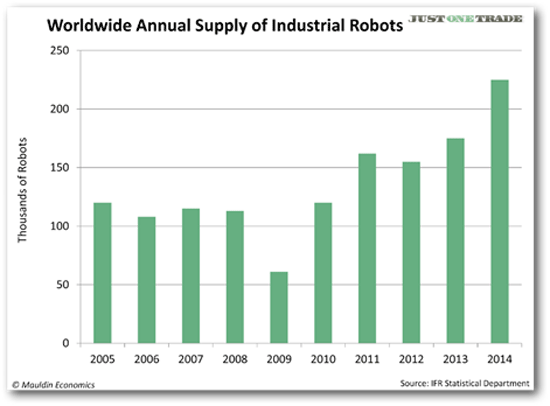 How You Can Cash In
Clearly, robotics is big business—and going to get a lot bigger.
What's the best way to invest in the robotic revolution?
Moog Inc. (MOG-A) is an aerospace/defense company. It makes sensors and haptics, which are used in unmanned aerial drone systems.
Dover Corporation (DOV) makes all kinds of industrial machines, including robotic grippers and components.
iRobot Corporation (IRBT) produces military robots and the Roomba vacuum cleaner.
Raytheon Company (RTN) is a giant aerospace/defense company and produces many types of robots such as drones and vision systems.
ABB Ltd. (ABB) is a Swiss conglomerate and gets roughly 20% of revenue from producing robots.
Elbit Systems Ltd. (ESLT) is an Israeli defense contractor that produces unmanned aircraft and surveillance systems. It also gets about 20% of its business from robotics.
Adept Technology, Inc. (ADEP) makes robots for manufacturing, food processing, automotive and warehousing applications.
See more at MauldinEconomics